It is with great pleasure that I invite you to come see our new dental clinic located at 1010 Shevchenko Blvd. My entire team and I will be there as of today!
You can expect a warm welcome, as always, in a space adapted to your needs and designed to ensure your satisfaction; a fresh space filled with natural light and friendly smiles. This move was set in motion with you in mind!
Rest assured that you will be provided with the same services and that our rates will not change.
I would also like to take this opportunity to present to you our new logo, a reflection of our new dental clinic.

Come see us…We have a few surprises in store for you!!!!
P.S.: The new clinic, which has a large parking lot for your convenience, is just a few steps away from the existing clinic.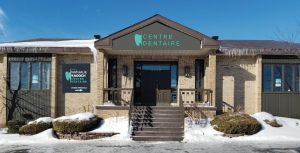 See you soon!
Dr. Nathalie Kadoch & her team